"Extraordinary - Jo brings to life anything she delivers. Her ability to "get into the minds of individuals" and then use her insight to lead individuals to first know themselves and then believe they can achieve allows people to move into a completely new paradigm of behaviour. Jo is also an exceptional coach, moving team and individual capability forward and she also goes out out of her way to provide individual support. Jo has a relaxed, engaging and approachable manner which enables her to relate to people at all levels. Jo's sessions are always tailored and relevant to the needs of the business. Her sessions are always refreshing and interesting and she has an amazing ability to be able to bring a room of people together. She uses a variety of training/coaching techniques and always makes the session interesting and fun. Attendees often comment that they" want more" and that they will be able to apply the principles to their day to day role. I have worked with Jo whilst in two companies and I would have no hesitation in recommending Jo to anyone. A real pleasure to work with."
Insights Discovery Personal Effectiveness

Insights Discovery is based on the psychology of Carl Jung.  Using the simple universal language of colour, participants are able to gain a detailed understanding of their working style, how this impacts on their relationships with others and how they might develop to improve their personal and professional effectiveness.
The training is engaging, interactive and fun.  Focused on your own unique needs the sessions can meet the demands of your people and business environment in duration, content and location.   Many clients are amazed at how quickly they, and their employees, pick up the learning and how it has helped them to open- up a whole new world of understanding of themselves and others.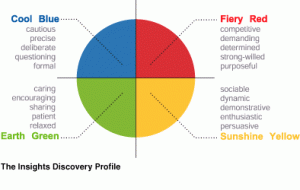 Benefits that you can expect from the development event:  
Each individual will have an overview of their personality style
This will empower them with excellent insights into themselves and others
They will understand the impact that their personal style has on their relationships
They will gain insight into their own strengths and weaknesses
They will be faced with their blind spots
Understanding their own profile will help them to communicate 
with individuals with other profiles
There will be an understanding of what profile suits which job position best
It will teach individuals how best to deal with conflict
The manager will know how to best manage and motivate each profile
You will know what is each individual's preferred learning style and therefore how to teach them
effectively
You will have insightful sales representatives who will identify the client's profiles and how to best
meet their needs.
Each staff member will take ownership of their development and we will help them set clear goals
The Insights Discovery Personal Profile is more than a personality solution.   


For a sample profile click here
It is a development solution that when used alongside a bespoke training session will help individuals to understand:
How perception influences thinking, behaviour and approach to work situations
The Insights colour energies and how to spot them in ourselves and others
How to manage communication to get the best response
How to influence more effectively
The importance of 'Adapting and Connecting ' with others who are different to us
How to set effective goals and strategies and apply the learning back in the workplace
 
Talk to us about how we can help you understand what makes your people tick and how you can make best use of their unique talents, skills and preferences.